Two KMDG Projects Awarded by BSLA
We are excited to announce that the Boston Society of Landscape Architects has honored KMDG with two design awards. Both Fisher Hill Reservoir Park and Suffolk University's Roemer Plaza have won Merit Awards for Design.
Fisher Hill Reservoir Park
The project captured an important opportunity to transform an abandoned piece of public infrastructure into a public park for passive and active recreation. The distinctive landforms and architecture of this former Massachusetts Water Resources Authority (MWRA) facility were retained and integrated into a park serving new functions.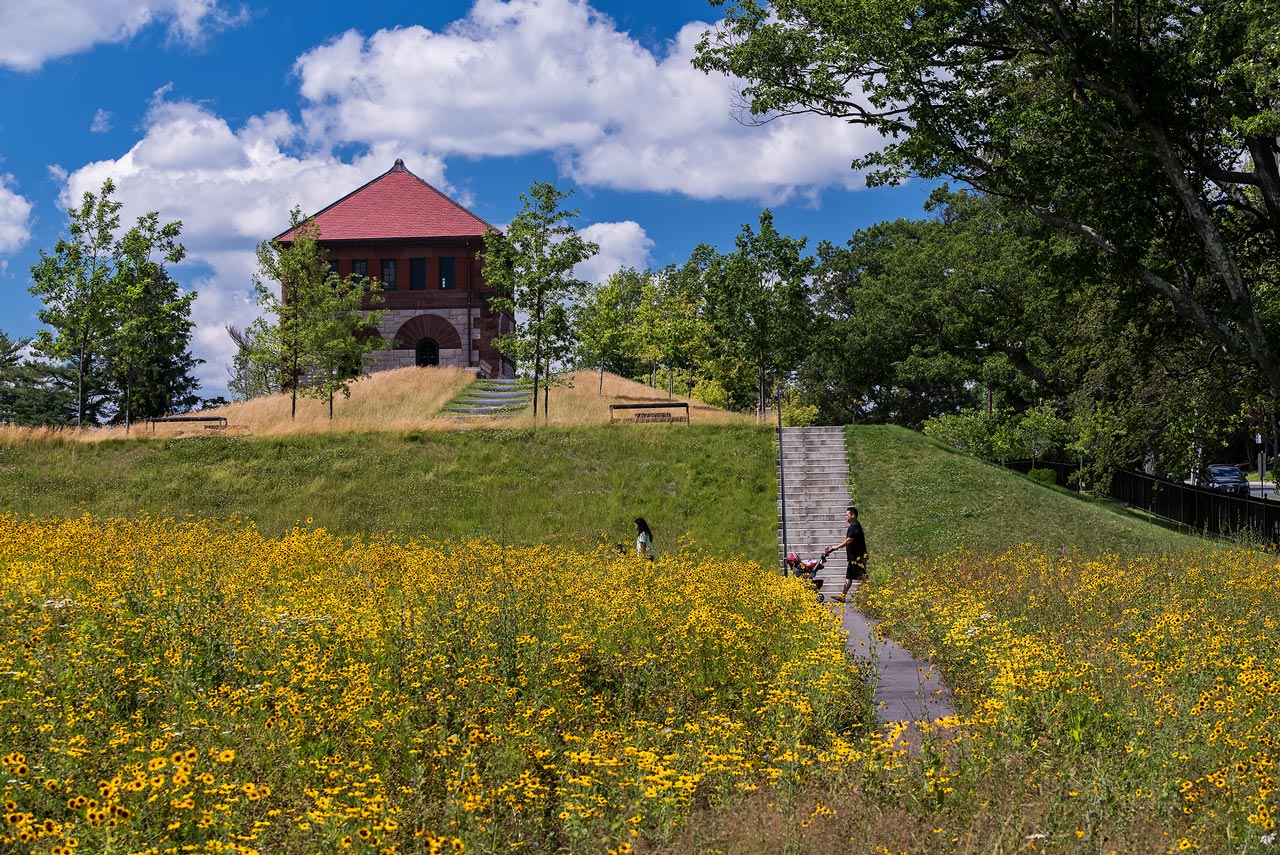 "love that the topography was kept as a repurposed landscape remnant." -bsla jury
Elements such as a wall and topographic marker indicating the high-water mark, allow visitors to experience 'plunging' into the former watersheet of the full reservoir. Granite pavers with a carved map of the state-wide water supply system, of which the reservoir was a part, help contextualize this place in the state and neighborhood, and illustrate how our water resources are still delivered. The fully accessible path network allows universal access to the various artful play elements, prospect points, and diverse, native, woodland and meadow plantings that give the park scale, seasonal interest, and ensure a rich botanical future.
See more of the project here.

Roemer Plaza at Suffolk University
The redesigned Roemer Plaza transformed an underutilized 1960s era open space into a multi-functional, university plaza, that provides flexible circulation and much needed campus gathering spaces within a tight urban fabric. When Suffolk University purchased Massachusetts's Metropolitan District Commission's (MDC) property on Boston's historic Beacon Hill, their proposed new building presented the design team an opportunity to re-envision the adjacent run-down plaza.
"the human scale of the space and careful three dimensional study of the stair and terracing are well done, adding a lot of value to this space." -bsla jury
Identifying the need for a campus identity and connectivity through this space, the design approach addressed the topographical and structural constraints of the site. With the plaza sited above an existing structure, the design features an amphitheater of stairs and seating that reconnects the existing upper and lower plaza levels to facilitate stronger circulation and provide a seating/stage relationship that allows Suffolk University to hold outdoor campus events. Pockets for plantings were carefully coordinated to work with the existing structural loads. Our commemoration strategy focused on the great places that are a result of the MDC. Eighty MDC place names are raised from a black granite plinth centered in the plaza. In addition to the plinth, panels standing 12' tall and 175' long, exhibit historic maps, plans and photographs highlighting important MDC projects around the greater Boston area.
See more of the project here.